This business has gotten out of hand, yes even here in Sioux Falls. Thank goodness the core group of carpet cleaners in the area have been the same bunch of guys for almost 30 years. This group has always done quality work, and accepted and adhered to Industry standards, and most of us were certified in our craft. The population of the city has almost doubled in that time!, unfortunately We can only do so much.
In the last 10 years thats all changed, new companies continue to pop up almost overnight, prices are all over the map, quality is going down hill fast, but guess what. These are not truck mounted steam cleaners they are "Scampooers"
Scam-poo-er: An untrained, uneducated and certainly not certified individual or company using commercial encapsulation products and methods, to "clean" residential carpet knowing that the process will void your carpet warranty.
Allow me to shed some light
I see articles written that say residential carpet is losing market share to woods, laminates and tile, here are some observations.
Having been in the carpet cleaning business for almost 25 years I achieved a Certified Carpet Inspector qualification, and as the Mills have advised, I have always used steam cleaning or hot water extraction. Today we use huge truck mounted equipment, state of the art rotary cleaning tools, and some of the best and safest chemicals we have ever seen. We are doing the best cleaning we ever have. Dry times are in the single digits and customers love it. We have expanded our services to tile and hardwood flooring and business is Great!
It has never been my nature to "Put Down" my competition, I guess I learned that pretty early in life. And have stood by that until now. In the last 10 years the carpet cleaning industry has gotten completely out of hand. The influx of people in this business has not been a good thing. Read on.

The biggest issues I see, why carpets share of flooring is declining:

1. Improper Carpet Installation
2. People do not vacuum enough
3. Improper Cleaning
4. No Professional Cleaning

My point with all this is, at some point consumers were no longer being educated properly. I blame our industry some for that, sharing that blame with the mills, installers and the retailers.

Our industry is full of profiteers and hacks out there Scampooing carpets with "Encapsulation" and "Dry" methods that were never approved for residential carpeting.

They do it because they can use a minivan and almost no investment in equipment. They do it because it's easy. Scampooer's boast hourly rates around $200 per hour "cleaning" carpets. Scampooer's use scare tactics about "days to dry" and are not educated nor certified by any Mill, yet they exist.

Retail flooring salespeople are not of the same educated, spirited group their fathers were. I will venture to say few have been to Dalton, Ga and actually seen carpet made. Education is the problem here.

Installers want to do it the easy way. I see more staples than I do tack strip. Enough Said.

The bottom line; The consumer sees a carpet that looks and feels "horrible" 6 months to a year after it's installed, they see crushed and dingy traffic lanes, ripples all over from the knee kicker installer, and vow to never buy carpet again! Frustrated they call the retailer and are told to get it cleaned.

They call a scampooer to "clean" the carpet. To add insult to injury, they come in and spray some miracle solvent on your carpet, rub it around for a few minutes and charge $200 an hour for this! leaving behind a residue that the consumers are supposed to vacuum away.

And they vow to never buy carpet again. Judging from industry numbers, I would say they are keeping their vows.

For those consumers that love their carpet, and wish to know proper maintenance practices and the bottom line on cleaning, I offer the following sources of information:

Stainmaster: These Folks Invented Nylon. Nylon has by far the largest share of the installed residential carpet.
Shaw: The largest carpet manufacturer in the world

I am betting you won't find anything about "Encapsulation" and "Carbonated" or "Dry" cleaning residential carpet, why you ask? Because it doesn't work! and will void your warranty.

The first question you ask a scampooer is where does the dirt go? They will give you some type of "story" about the spray encapsulating the dirt so it can be vacuumed away later, and go on and on about how fast it dries. Of course it dries fast it's a spray! The residue left behind will not magically be vacuumed away, but pushed deeper into the carpet. I have re-cleaned hundreds of carpets with this residue in them, I get a huge tank of soap suds. Scampooing only reaches the top 1/3 of the carpet fiber, as you know the dirt and odors go much deeper than that.
Scampooing is like washing your hair and not rinsing it.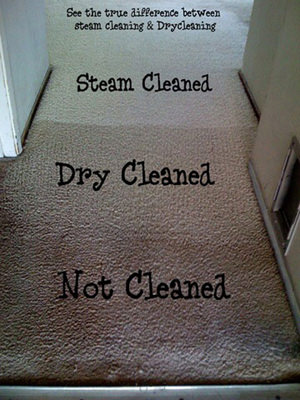 We use a filter to trap pet hair and other debris from getting into our waste tank and blowers. Take a look at this photo, I just took.

This is from one customer that had 2 rooms and a set of Stairs cleaned. This doesn't show what we removed with the vacuum.
Ask the Scampooer to show you their filters?
Warning: A close up of this picture may disgust you.
Beware of someone toting these machines into your house to clean your carpet.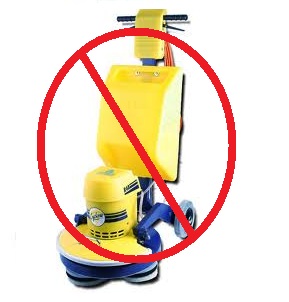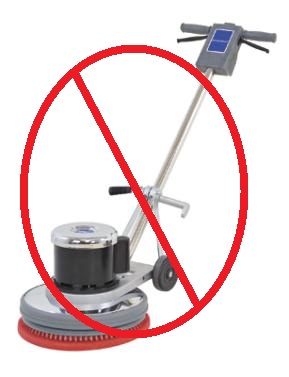 Here's a tip: If there is no large vacuum hose running to a truck in the driveway, ask the scampooer to leave.

If the Company uses the words "Dry In 1 Hour", "Oxy","Dry" or "Encapsulated" in their literature or business name, take warning, most likely you are talking about a scampooer. Always look for "Hot Water Extraction" or "Steam" Cleaning for residential carpet cleaning.
What happened here is the scampooer's saw an opportunity, grudgingly the Mills "accepted" the need for Very Low Moisture (VLM) cleaning for some commercial carpet settings. The "Dry" carpet cleaning business exploded. The training and equipment to get started was 1/10th of what it cost to buy a truck mounted steam cleaning setup.

It didn't take long and the scampooer's found there was not nearly enough commercial carpets for them to "clean", so they "decided" the only way to make $200 an hour was to scampoo residential homes. This being an unregulated industry, there are no carpet cleaning cops to stop them. The industry associations went broke trying to educate the scampooer's. So they were left to multiply. Multiply and void warrantees.

Here we are today talking about carpet as a floor covering losing it's market share.

Never will any Mill "approve" or "accept" encapsulation cleaning for residential carpet. The pile and construction of residential carpet does not allow for the aggressive action of a floor scrubber. The process just doesn't match up to the deep cleaning of mill and industry approved truck mounted steam cleaning. The whole idea is to rinse out and remove the soil and any residue from the carpet.
As always I have a standing challenge to any and all scampooer's. (and have NEVER been taken up on it) I will put my money where my Truck Mounted Mouth is. I will out clean any and all. And will have the dirt in my filter and truck to prove it!

I know this got a little long winded, but I hope you appreciate my passion for my profession and my customers.


Thanks for your time.

Harold Pastian
Owner A-1 Carpet Service


P.S. Read these posts and see what others have to say!