Carpet Repairs Sioux Falls, SD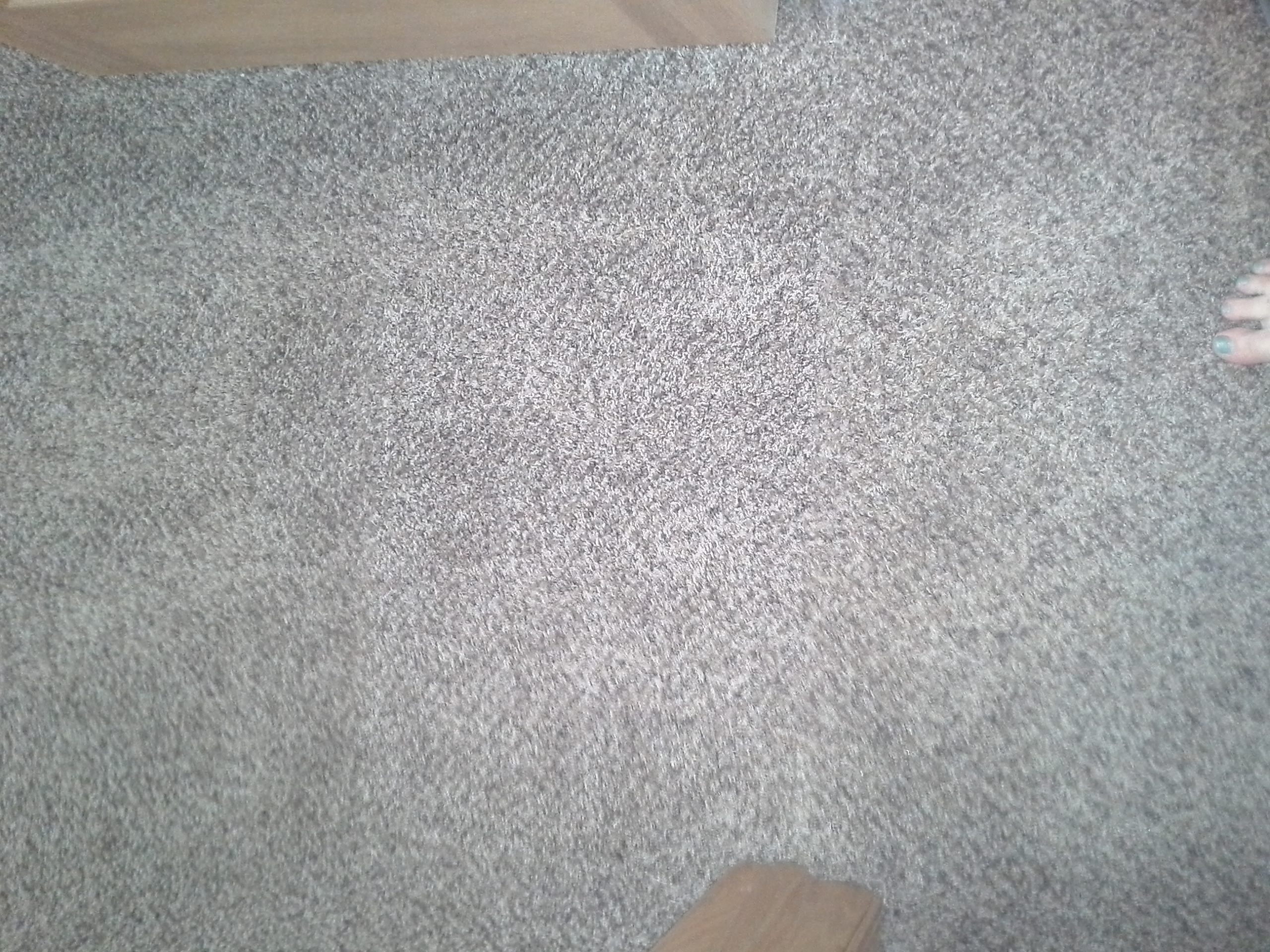 Above is a repair from a dog that wanted out!
Loose, wrinkled or "buckled" areas of carpet can occur in very small areas or throughout several rooms of a home. If your carpet has this type of damage, there is a risk of tripping and your carpet begins to wear very quickly because every step that is taken on it causes the carpet to bend and rub back and forth. Restretching pulls the carpet taut to every edge again, eliminating the bumps, buckles and wrinkles and causing the carpet to lay flat and taut as it is meant to be. A-1 Carpet Service has successfully performed hundreds of restretching services ranging from very small (just in the threshold of a door) to an entire houseful of carpet. Cleaning loose carpet is a huge challenge.If your carpet is loose, expect your technician to recommend a stretch or repair to ensure the best possible outcome.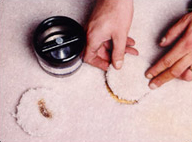 That annoying cigarette burn or the spot where chlorine bleach was spilled onto the carpet can be easily repaired using the cut and plug method of repair. The damaged area is cut away from the carpet and a matching piece of carpet is cut to perfectly fit the hole. This patch is affixed with hot glue after the technician takes great care to match and blend the warp and weave of the patch to that of the surrounding carpet. In many cases, the patch literally cannot be seen once the carpet pile is brushed around the edges of the patch. If the customer does not have extra carpet from which to cut a patch, often a small piece can be taken from a closet or other discreet area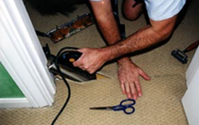 Removal of candle wax
Loose carpet on stairs
Removal of chewing gum
Repairing ripped carpet
Repairing split seams
Repairs of carpet sprouting
Repairing faded carpet
Repairing carpet snags
Repairing tears



---

---

Carpet Stretching
Some companies use a Knee kicker to stretch carpet (Far right tool). The kicker is meant to position the carpet, not stretch the carpet. A power stretcher will get your carpet closer to factory specs. When a carpet is stretched, in most cases the whole room needs to be stretched. If we try to stretch just the middle of the room, the bump will just move to either side of where it was.
Q. Do I need to empty the room?
A. It is best, but many times we can work with the furniture. There is an additional cost if we do have to empty the room or rooms of furniture. No matter which way it is done, you are responsible for removing all breakables and electronic type equipment.
Q. Do you have wrinkles in your carpet?
A. If the answer is yes, then you probably need to have your carpet re-stretched. To test this out, go to the middle of your room and grab a tuft of carpet. Lift the carpet up and let it go. If it lifts more than an inch or so, then it is too loose. After a few years, the backing of your carpet begins to stretch out and your carpeting will no longer have the correct tension on it. Loose carpet wears out quicker, is unattractive and unsafe. If your carpeting is less than 1 years old, you should check your warranty. Most carpet comes with a 1 year labor warranty which will cover re-stretching. If you are past the warranty period, then unfortunately you bear the cost.
Q. How are the carpet wrinkles corrected?
A. A-1 Carpet Service can easily repair this. Special techniques are used to ensure a good final result. We will detach the carpet from the tack strip and re-stretch it from wall to wall. We usually have to cut off several inches of the carpeting since it has physically stretched out. We may also have to redo seams at doorways and closets. It can be quite a task, almost as labor intensive as the original carpet install, but it is well worth it. A properly stretched carpet will last longer, look better and be safer to walk on without the wrinkles and bumps
Call us @ (605) 359-1098 For a no obligation quote