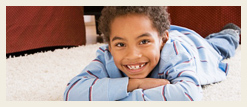 This really happened!
I once cleaned and repaired a carpet in a rental property, where the tennants raised rabbits loose in a bedroom..#nodepositforyou . On another occasion i cleaned and repaired a carpet in a bedroom that had flooded from a waterbed break..three days earlier!!... #callrightaway. I arrived at an emergency flood where the back yard fountain and ponds (yes you read that correctly) were still flowing into the sunken living room ..#shutthewateroff
Frequently Asked Questions
How long will my carpet take to dry?
Depending on humidity and airflow it should never take more than 12 hours to dry. Heavily soiled carpets can take longer if we need to use more water. On Average Dry times are in the 2 to 4 hour range. During the Dry winter months humidity in the home can drop to 20% or below, this is a perfect time to get your carpets cleaned.
Will Steam Cleaning void my warranty?
No. Hot water extraction marketed as "Steam Cleaning" is the approved method reccomended by all the leading carpet manufacturers. We were an IICRC Certified Firm. Remember that professional cleaning is required at least every 24 months to maintain your warranty.
How long does it take for my furniture to dry?
Furniture is similar to carpet with respect to drying times usually 2 to 4 hours depending on humidity and airflow. When possible we like to clean furniture outside in full sun, the results are amazing!
What Furniture Will you move?
If it's on sliders we will slide it out and put it back. This includes sofas and chairs, tables. If you want it moved, put sliders under it. We will never move TV's or electronics. Beds do not usually get moved, especially if a headboard is attached. If you want a bed moved put sliders under it.
more info
more FAQ